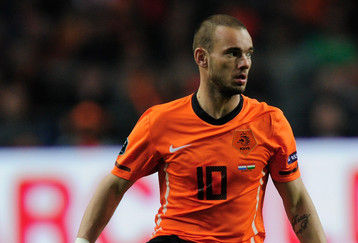 Jamie McDonald/Getty Images
(
Bleacher Report
)Wesley Sneijder appears to be inching ever closer to a move to Manchester United. The last 24 hours have seen Sneijder admit that there have indeed been unofficial talks being held between the Red Devils and Sneijder's current club Inter Milan.
The Dutchman's national teammate and closest friend, Tottenham's Rafael Van Der Vaart, believes that Sneijder would be the perfect fit for United's offense, and when asked to discuss his friends current state on a move to England he had this to say:
"Of course he would like to play in England, it's the biggest league in the world."

"He is a good friend of mine and we have contact almost every day. He knows what to expect in the Premier League."
His response on the possible move of Sneijder to United was:
"I hope not because Manchester United are going to be stronger."

"But he's a great player and he [would] fit in well at Manchester United."
In the end Sneijder has managed not to burn any bridges by stating that the decision was up to Inter Milan with his following comments:
"I am an Inter player now and the chance that I will still be with Inter on August 31 is pretty big. There's also a chance that I will leave the club though.

"That doesn't really have anything to do with me, but is down to Inter. They have been pretty clear that they will have to let go of me if a good offer comes in. They don't want me to leave, but there's a chance that they will sell me if the price is right."
With just over three weeks still remaining, if the need is still there and United have the money it would not surprise me to see Sneijder in a Red Devils kit by the end of August.
You can follow me on Twitter
@thedailyatz
and
Facebook
or visit my personal
WebSite