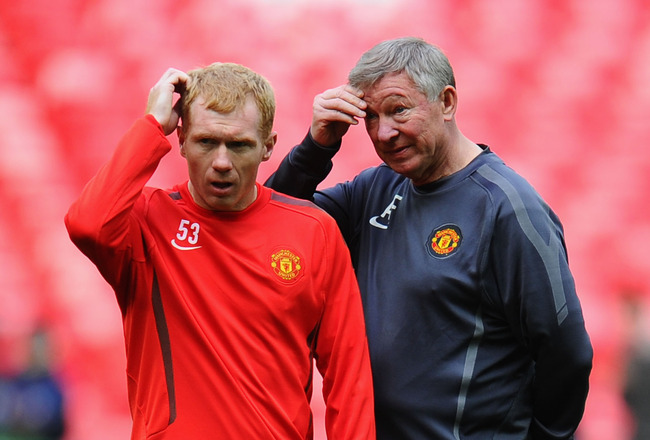 Clive Mason/Getty Images
(
Bleacher Report
)On the eve of Paul Scholes' testimonial match, it is still unknown whom will be brought in by Sir Alex in the hopes of filling his void.
Not only is this a sending-off party for Scholes and his illustrious career, it is also the rebirth of one of the United States' original football clubs. It is only appropriate that this match is at Old Trafford, as former Manchester United great Eric Cantona is at the top of the list for the New York Cosmos and their reintroduction to the world.
Many names have been thrown about for players that United would be signing to fill the void left by Scholes absence. The Red Devils young Tom Cleverly has looked a future successor during preseason as he and Anderson have impressed on multiple occasions.
Sir Alex had this to say about the retiring veteran in a recent ESPNsoccernet.com article:
"To my mind he will go down as one of the greatest players of all time for Manchester United. I was with Fabien Barthez on Wednesday having a chat and he said, 'Pass my regards on to Scholesy; he's the best player I ever played with."

"You see Xavi talking about Scholes, and he's in a better position than most of us to talk about midfield players, saying he's the best player he has every played against."

"He might not turn up—if an interview is involved he won't. He will be quite happy with his slippers on! He will endure it—if he has to do an interview or something with the fans at the end of the game he will get through it somehow, but he will not be looking forward to it."
Nevertheless, Fergie has to have a wish list, and here are four midfielders that he would love to have if given the chance to plug a new dimension back into his central controlling areas......
Click Here to Start the Slideshow
.
You can follow me on Twitter
@thedailyatz
and
Facebook
or visit my personal
WebSite