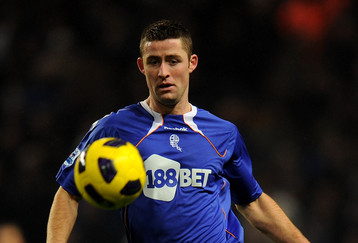 Clive Mason/Getty Images
(
Bleacher Report
)Scott Dann has been on the Liverpool radar since early in the transfer window, and Arsenal threw their lot in around the same time. With two of the biggest names in English football chasing the player it is no surprise that there still has been no official word that he is going anywhere.
Arsenal will be in desperate need of completing a defensive signing in the last few weeks of the Transfer window as Thomas Vermaelen is down once again.
Dann is believed to be valued at no less than £10 million by Birmingham City, and the Championship club are still possibly looking to cash in on their young defender with a need to spread some money around and fill the holes left by many departed starters following their relegation.
Bolton Wanderers center half Gary Cahill also is in the middle of the two clubs power struggle to add depth at the back.
Cahill is valued slightly higher than Dann at around £12 million, and with Wenger having already been denied a move for Everton's Phil Jagielka, the Frenchman may have no other option than the Bolton man.
Liverpool are split between which of the two to chase, but either way they turn the Gunners are likely to head the opposite direction and I look to see at least one of the two players to be wear either Liverpool or Arsenal Red by the end of August.
You can follow me on Twitter
@thedailyatz
and
Facebook
or visit my personal
WebSite